Your room at Plan de Corones
In our Nature Hotel Edelweiss, you can choose among four room categories. The quaint yet charming ambience of our rooms radiates a unique authenticity. Nevertheless, all rooms offer many modern comforts, such as a big TV-set. The natural charm of your room at Plan de Corones mainly comes from the interiors made out of precious stone pine wood or massive oak. It perfectly blends into the natural surroundings and gives the rooms a cosy flair. The interesting wood grain of the stone pine continues into your spacious bath room, where shower, WC and hair dryer are at your disposal. Guests with allergies can breathe freely in our hotel rooms thanks to the floors made out of massive oak. The underfloor heating provides an ideal and comfortable room temperature. A spacious balcony with a breath-taking view over lush lawns, green woods and majestic mountain peaks is part of every room.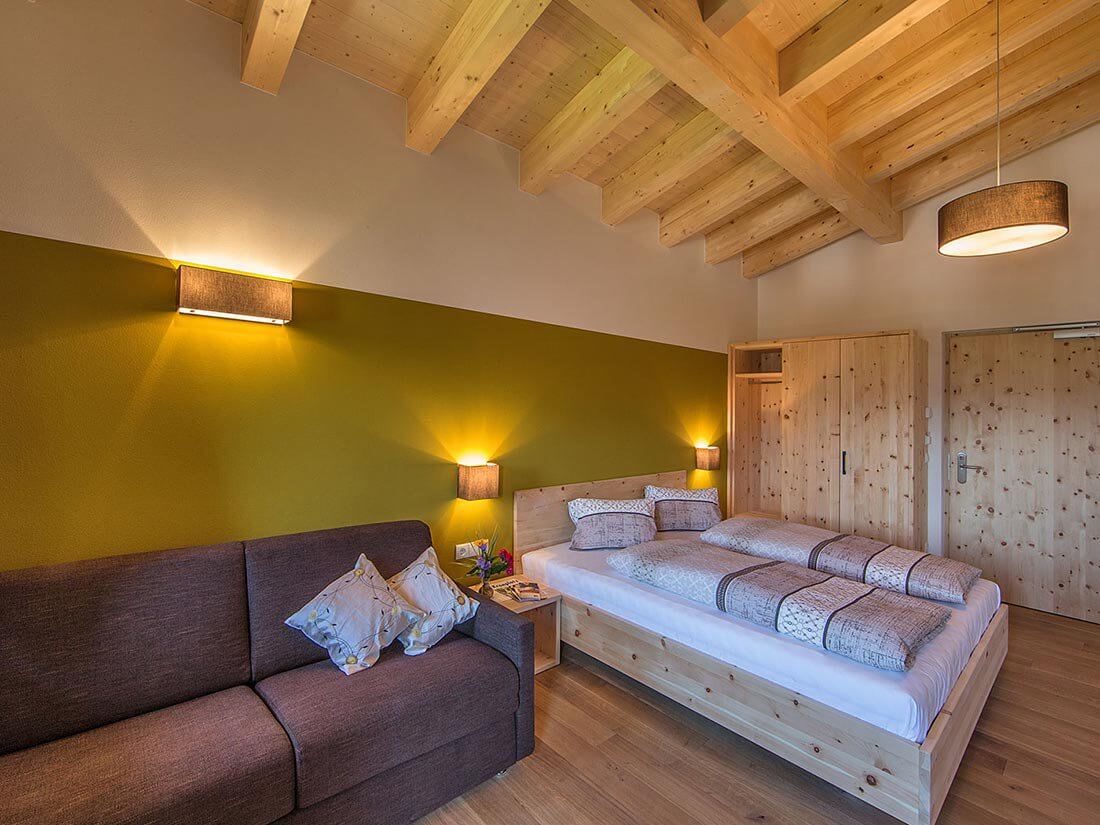 The scent of the Alps in your room at Plan de Corones
The stone pine, which is also known as "Arve", mainly grows in the forests of the central Alps and thus also in the region around our Nature Hotel Edelweiss. Its scent is so cherished that even the perfume industry uses the wood of the stone pine to enrich their fragrances. The mild and warm aroma reminds of pine needles in the autumn sun. The scent of this precious wood never evaporates, but subtly changes over the years. It becomes more rich and its bouquet smells more like vanilla and incense.
Relax in your room at Plan de Corones
It is scientifically proven that stone pine has a positive effect on your state of mind. Its ethereal oils create a soothing and relaxing atmosphere and reduce the growth of bacteria. As an example, a bed made out of stone pine enhances the quality of sleep and consequently the nightly rest. Since the furniture in all the rooms at Plan de Corones are made out of the precious wood, you will feel its positive effect on your life quality and your overall wellbeing during your holiday in our Nature Hotel Edelweiss.