Price list
Conditions & Included Services

| | | | | | |
| --- | --- | --- | --- | --- | --- |
| Period / Prices with half board | Double room Panorama | Double room Lärchenwald | Double room Hegedex | Single room | Additional charge for 1-3 nights / per day |
The Almencard Plus
Your guest card in South Tyrol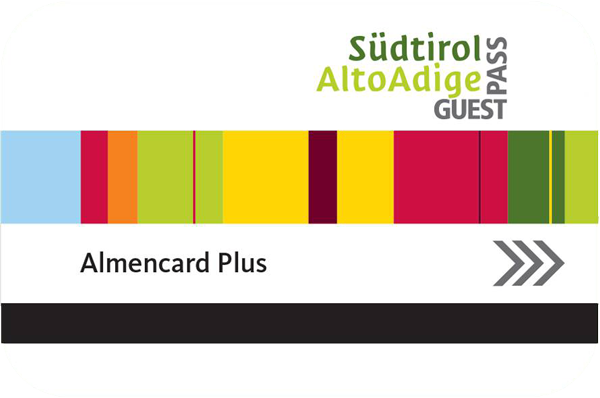 As a guest of our Nature Hotel Edelweiss you will receive the Almencard Plus free of charge. With this South Tyrolean guest card, you can use all public transportation free of charge. This includes all regional trains, local buses and many cable cars. The mobile card must be validated before the first ride. From this moment on, the card is valid for the next seven days.
Further advantages of the Almencard Plus
Upon availability, even babies, trolleys, luggage and wheel chairs can be transported free of charge. The same applies for guide dogs and small animals. Furthermore, holders of the guest card South Tyrol will benefit from a vast leisure and activity program in the local area. With the Almencard Plus, you may profit from many discounts. You can also enjoy the weekly program of the tourism association free of charge.

Price conditions
The quoted prices are the Euro amount per person and day for half-board and require a minimum stay of 7 nights
Short-term stay 1-3 nights, a surcharge of € 8,00 per person per night applies.
Double room for single occupancy: surcharge of 20,00 € per day
Local tax
On the 1st of January, 2014, visitor's tax was introduced in South Tyrol (Accommodation Levy of Municipality, LG No. 9, dated 16. May 2012). The revenue is invested in the construction and maintenance of infrastructures and services, as well as for the organisation of cultural and sports events. From 01.01.2018 the local tax is 1,70 € per person (from 14 years) and day. In addition to the local tax, our guests receive the Almencard+, for the use of all public transport and some cable cars. The local tax rate can change at any time.
Meal times
You can enjoy the breakfast buffet from 7:30 am to 10:00 am.
Dinner is served between 6:30 pm and 7:30 pm
Non-smoking facility
Smoking is not permitted in the entire complex. Please smoke on the balconies or outside.
Winter rates
Guests who stay for 4 days will receive a day ticket for the ski lift Panoramalift
Ski buses
In the winter months there is a ski bus to Reischach, to the Plan de Corones.
The departure and arrival times can be found at the hotel.
Discounts
Kids to 1,9 years: free of charge
Kids to 5,9 years: -50%
Kids to 11,9 years: -30%
Kids to 17,9 years: and each additional person: -10%
Children's discounts apply when staying in the parents' room with two full-paying adults. Should extra food be ordered for children up to 1,9 years, we charge 10,00 €.
Pets
For dogs we charge 15,00 € per day without food.
Out of respect for our other guests, dogs are not allowed in the dining rooms.
Terms of payment
Deposit
To confirm your reservation, please transfer a deposit.
Booking
The reservation becomes binding only after our written confirmation and once the deposit is paid.
Payment
Please pay your bill in cash, by credit / debit card or check on the day prior to your departure.
Since January 2022, it is no longer permitted in Italy to pay amounts of more than 999.99 euros with cash. The following payment methods are allowed: non-transferable check, bank transfer.
Arrival and departure
Arrival: On arrival day the apartment will ready for you starting from 2 p.m. In case of a delay, we look forward to receiving a message from you.
Departure: On departure day, please leave your apartment not later than 10 a.m.
If you contact us via telephone, please call before 6 pm and after 8 pm, since the reception is not open during dinner time.
Cancellation
In the event of cancellations up to 30 days prior the date of arrival, the deposit will be retained to cover processing charges. 29 to 15 days prior 30% fee. 14 to 7 days prior 45% fee. 6 to 1 day prior 80% fee. In case of "no show" or early departure, the guest is required to fully pay for the entire booking period. The percentages refer to the total amount due for the booked vacation. Place of jurisdiction is Bozen.
This is a mandatory information according to the EU Regulation No. 524/2013 of the European Parliament and Council.The European Commission's Online Dispute Resolution (ODR) platform can be found here: http://ec.europa.eu/consumers/odr/
Cancellation insurance
As a special service and to save costs, we offer you cancellation protection.
Read all about the benefits of travel cancellation insurance.
Exlusion of liability
We strive to provide accurate and complete information on this website. However, we assume no liability or guarantee for the topicality, correctness and completeness of the information provided. We reserve the right to make changes without notice or to amend the information. Only the specific service offer or the booking confirmation is binding. For external links we can – despite careful control – assume no liability. For the content of linked pages exclusively their operators are responsible.
Data protection

For the purposes of the GDPR, we inform you that your data will be used and saved exclusively for processing your application and will not be disclosed or distributed to third parties. Regarding data processing, you are entitled to all rights according to the GDPR. The holder of the rights is Roland Engl – For more information about your rights, please visit here .
Note
Express reference is made to the legal provisions Art. 45-67 of the Italian Consumer Code GvD 206/2005.